He's only been to the sitter for 2 weeks and he's already bringing the crud home. Some pinkeye mixed in with a nasty cough/cold and swollen lymph nodes. Joy. So, we took a little trip to the doctor's office Saturday morning and got some medicine. Then we headed to Nana's to eat lunch, went to the park to play for a bit and did the grocery shopping. And of course I had to stop by the LSS and check out the new Sassafras Lass and Making Memories Animal Cracker line that just came in!
So, after a full day with a sick, grumpy kid, we head home. I get home and ALL of the laundry is done! Wow, I am SO lucky to have a sweet hubby! Now sure, it was all in a big pile on the living room floor (he refuses to fold clothes lol), but hey...I was NOT going to complain!
I've also done a few more layouts...
Here's one using the
April Kit
over at
My Scrapbook Nook
: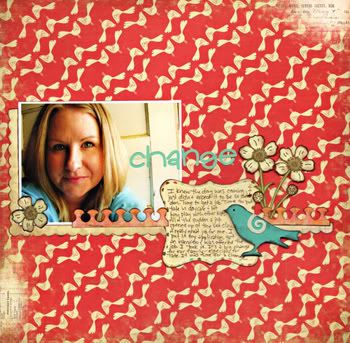 Here's one using the new Basic Grey Archaic line. It made it into the gallery over at
Basic Grey
and it also spent a couple of days over at
Two Peas
on the Top 10 list by voters and made it all the way to #1!
And here's a layout that's part of my class this Saturday at the LSS. I used the new Sassafras Lass Sunshine Lollipop papers. They are adorable! The big flower is Heidi Swapp. It started out white and I sprayed some Tiger Lily Glimmer Mist onto it for the color and some shimmer. The stitching down the side was done using one of the Bazzill In Stitchz templates. The layout lists my favorite 10 songs of the moment (in no particular order) (1. Gravity - Sara Bareilles; 2. Hero/Heroine - Boys Like Girls; 3. New Soul - Yael Naim; 4. Your Guardian Angel - Red Jump Suit Aparatus; 5. Stop & Stare - One Republic; 6. Birds - Kate Nash; 7. Broken - Seether w/Amy Lee; 8. Dig - Incubus; 9. Fall to Pieces - Avril Lavigne; 10. Paralyzer - Finger Eleven)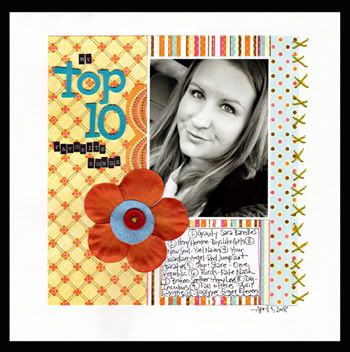 Have a fabulous week and thanks for popping by! :)