It seems that with my new job that I have completely neglected my blog for the last month. Yikes!
So, the new job is going great, but the sitter situation is still not so great. I knew it wouldn't happen overnight, but I figured he would have adjusted by now...it's been over 6 weeks and still not much of an improvement. Well, I take that back...he DID eat lunch 2 days last week, so that's a plus. Yep...he won't even eat over there and that makes me feel HORRIBLE. We'll give it a little while longer and see if there's anymore improvement, otherwise I might have to figure something else out.
In other news, I don't know why I can't ever remember how much I loathe painting until AFTER I start another painting project. My mom came over on Sunday and we started painting Tate's room--a nice bright springy green. And of course, my husband GUARANTEED that one gallon of paint would get it done...really, it's not a very big room. Har har, we ran out of paint before we got done and I live an hour from the paint store, plus it's Sunday, so they are closed anyway. Luckily my sweet mom brought me another gallon yesterday and I got the rest of the walls done last night. Now I just have to go back and paint the little "dirt road" border around the middle. I have some cute little car/truck/tractor wall stickers that will go on there. Then I can put up the rest of the new decor. I'll post some pics when I get it completely done.
Well, one thing about not blogging for so long is that I have quite a few projects to share too!
I think I'll start with the May Kit over at
My Scrapbook Nook
. I got it last week and it's SO gorgeous! It contains new Fiskars papers by Kimberly Poloson. They are so elegant!
And here's a layout I did with it (yes, I can't believe that's Tate and he'll be 4 this year!):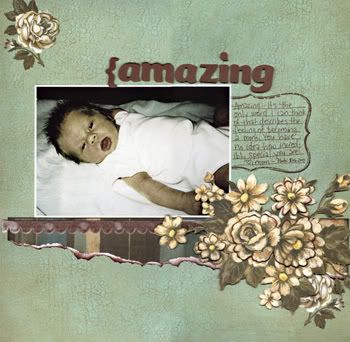 I also did a couple more projects with the April Nook kit as well: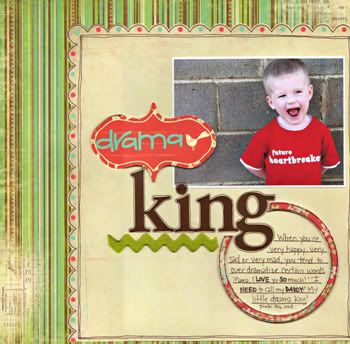 Also, don't forget to check out the new sketch for May over at
Gettin Sketchy
! Thorunn did another fantastic job this month! Here's my take:
I hope everyone had a great National Scrapbook Day...I actually got a layout done in between working and teaching at the LSS. I used the new Fancy Pants papers and felt...awesome stuff!
I also taught a layout class where we focused on digging out the circle and square punches that have been collecting dust and doing some fun techniques.
I used circle punches on this one to make a cute little scalloped border.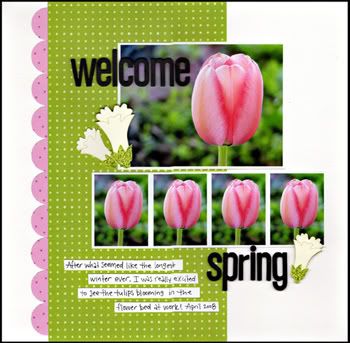 This one has a fun way of layering/distressing circles to add lots of texture. They also make cute flowers when you add a stem!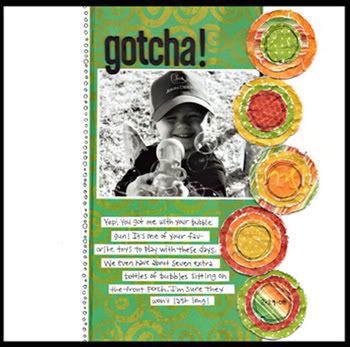 This one was totally lifted from my friend
Wendy
over at the Nook. I loved how she lined up her punched squares in a grid formation and did some faux stitching with a pen, so I used the same technique on my class layout.
I've also done a couple of mini albums this month. Here's one featuring a Maya Road chipboard album and papers from the Pink Paislee Office Lingo line:
You can see the complete album with the inside as well
HERE
.
I also did one using the new Making Memories Animal Crackers Jack line. It's SO stinkin adorable! The album itself I handmade form some scrap chipboard. It has a page for each month of Tate's first year and little tidbits about things that happened those months along with his weight/height each month.
You can see more views and a couple of the inside pages
HERE
.
Well, I think that gets me caught up. I also added a little music for your listening pleasure...some of my favorite songs of the moment. Enjoy and thanks for stopping by! Have a great week!