The weekend just flew by! But it was probably because I was having so much fun! The scrappy girls and I went down to Tulsa for the Creating Keepsakes Convention Friday & Saturday. We had lots of fun, spent lots of money and ate lots of great food! (Olive Garden, The Cheesecake Factory and I was even persuaded to try some Asian food at Peiwei--and it was pretty good!)Anyway, I just have a few things to share this morning...first is a picture of Tate taken with my new camera. I added a texture layer from
LCH Photography
...they are SO neat!
And the next 2 are a couple of my layouts for my class this Saturday at
Chasing Rainbows
. And I'm super excited about my class Saturday. Along with my regular favorite people that will be attending my class, my good friend Charlotte from
The Nook
is also driving down to take my class and do some cropping! I'm so excited to see her again! She's the sweetest! So, here's 2 of the layouts we'll be doing on Saturday: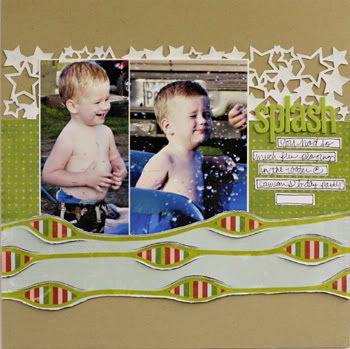 And one of the best things that's happened in the last week is that I found my good friend Stephen on MySpace. He was seriously one of my best friends ever back in the day and we lost touch when I moved from OKC to Kansas, so we've been chattin it up and catching up on everything that's happened in our lives. He was the sweetest friend ever and one that I had missed the most from my past! The internet does amazing things!
Have a fantastic week everyone! :)