Brown -- as in the UPS guy that is! Wanna see what he brought me today? Well, do ya?? I'm still in awe.........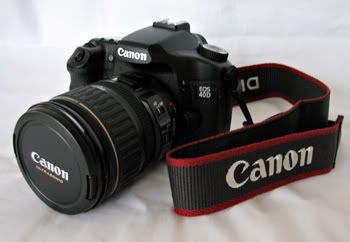 Yes friends...that would be my new
Canon EOS 40D Digital SLR
! Talk about quite a change from my little Canon S2iS point & shoot...but I've been doing nothing but manual mode on my P&S for a while now, so I'm a little familiar with settings, but this thing has so many buttons and gadgets on it that it's a little overwhelming. I played with it a little while I was at work (needless to say that I didn't get much done today in the way of work!). It's been rainy out today, so I havn't got any good shots to share yet. I also got a great
guide
on my specific camera and I'm already several chapters in. It's helped a ton and seems to be a great book so far--very easy to understand and process!
I still don't know how I talked the hubs into letting me get this...and it was a lot easier than I even dreamed! Just a few promised favors... *snicker* I really figured he'd buy another cow or 2 with our extra money...but really, we have enough for the moment I think! Camera ----- Cow, Camera ---- Cow...hmm, easy choice!