And it only took browsing through my email! I opened up my
Scenic Route
email newsletter this morning to see what kind of eye candy they would have for me this month...One of them linked to
Lisa Dickinson
so I made my way over there. Boy, was I in for a treat! Not only does she have some amazing layouts, but the reading is fabulous! I love good story tellers...maybe because I'm not always so great with words. I just wanted to share...if you havn't already been over there, you should check her out!
And how can you NOT be inspired when you are working on some fun challenges? I'm participating in an educational venture known as
Nook U
. It consists of core classes (mandatory challenges if you are in it for the big prize) and elective classes with some extra credit through in. It's a 4 week school, so I hope I can stick with it! Want to see what I've accomplished so far?
Core Class: Math 101 - using your supplies in multiples of 3.
I used:
3 photos
3 patterned papers
6 words for the title
18 letters/punctuation in the title
3 white edges (around the photos, around the artisan edge paper, and under the striped strip)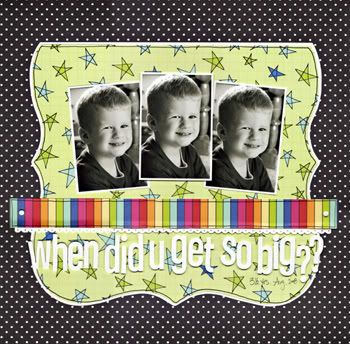 Elective Class: Physical Education/Health - using some form of movement as your subject or something that actually moves on the layout.
Core Class: English - It had to be a layout about books/reading and you had to have a photo of yourself reading.
What else would I scrap about besides the Twilight series that took over my free nights this year?!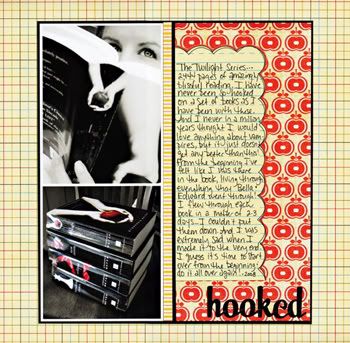 I still have one more core class to complete by Saturday and since we don't have much going on at the clinic today, I brought my scrappy stuff with me! Now if only it would quit raining long enough for me to get it all out of my car...the rain can really just go away now. It's been raining all week and with Ike on the move, it doesn't look like we'll be getting any relief any time soon.
Have a great week folks! :)