Okay, so I read a post over on
The Nook
a while back about organizing. It had a link to
Christine's Blog
and how she organizes. Now, I don't know about anyone else, but I spend just as much time (if not more) organizing and reorganizing my scrap supplies than I do actually USING the stuff. So, when I find something new and different I usually like to try it. And that's what I spent my Sunday doing...sorting and organizing using Christine's method. And so far I really like it! Everything is right on my table in front of me, sorted by color.
I am obsessed with felt...mainly that cute Fancy Pants stuff, so I have a TON. But they stayed in the packages and I never thought to pull them out and use them very often. Solution: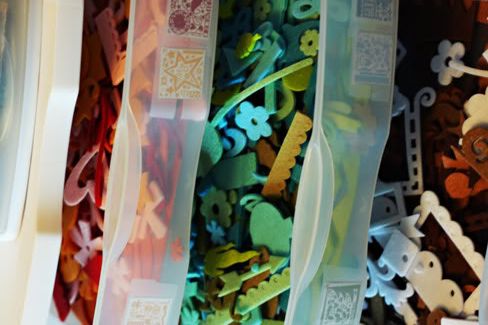 I took them all apart and stuck them in drawers...they are the wide drawers that can fit 12x12 paper since some of the felt pieces are big. Also, on the back of the packaging, it shows a picture of what's on each sheet...so I cut those out and taped them to the inside of the drawers so I would know exactly what I had in there!
I did the same thing with my smaller chipboard pieces, epoxy shapes and other dimensional embellishments: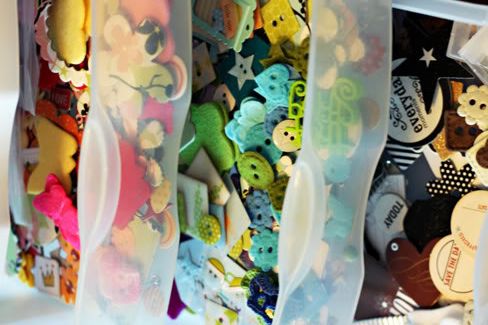 and for my tags, transparencies, die cuts and journaling spots:
and my flowers: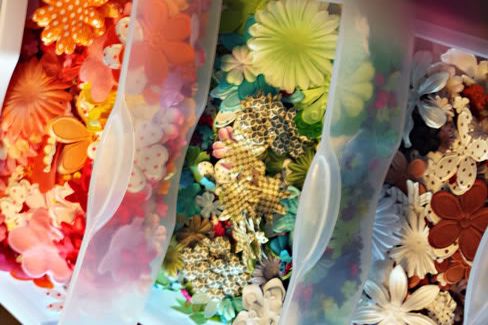 and my buttons:
and here's kind of what the whole setup looks like...although it's facing the wrong direction in the pic because I couldn't scoot back far enough the other way to take the pic: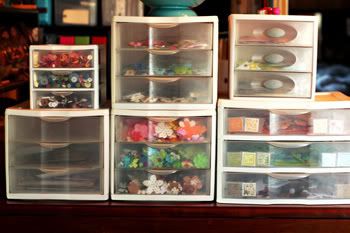 I used what I happened to have on hand since WalMart's an hour away, so I thought it turned out pretty good!
RAK ALERT!! RAK ALERT!! RAK ALERT!! RAK ALERT!!
*************************************************
So, did you SEE how many flowers and buttons that are crammed into those drawers? I thought about buying some bigger storage drawers for them, but I have a better idea. Since I have way more than I could probably ever use, I thought I would do a little giveaway! All you have to do is post a comment here and I'll do a random drawing for a little package of flower/button goodness! I'll draw and post a winner sometime next Monday, September 22.
I've also got a couple more layouts to share! This first one was a lift from the most recent Scrapbooks Etc. magazine. I used the Cosmo Cricket Mr. Campy papers...LOVE them!!
And this one was for the
Nook U Challenge
going on over at MyScrapbook Nook. The challenge was to do a layout based on artist inspiration. Finding a piece of art and taking something from it. I used my favorite architect
Frank Lloyd Wright
. He is known for his graphic style and clean lines. If you havn't seen any of his stuff, you should check it out! Especially the
Fallingwater House
...AMAZING!! I would love to go tour it someday!
So, I picked a piece of stained glass that he designed:
and here is the result on my layout: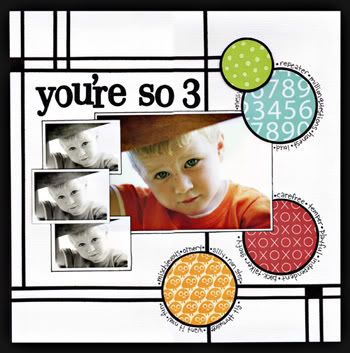 This weeks Core classes are up at the Nook, so I have lots more to work on this week, so hopefully more to share by the week's end!
On another good note, it has finally stopped raining! Yesterday was just gorgeous! Low 70's all day long! And today looks to be just as beautiful...too bad I'm stuck inside! Have a great week everyone and don't forget to leave a comment for a chance to win some goodies from me!