Hummm, so I'm a few days late and a couple of months past due on posting (thank you to those who have been worried about me!). For some reason around the holidays at the end of the year, my blog seems to get shoved by the wayside because there is just so many other things going on. Not only do we get Thanksgiving and then Christmas, but right smack in the middle of those we get Tate's birthday (I cannot believe my baby is 4!) and then there's New Year's and I'm also trying to get taxes finished up (yuck!).
I did manage to squeeze in a little scrapping between there, but not much. Oh, and I have discovered a new passion: crocheting (thanks Teresa!) and rekindled my love of MMORPG's. I started playing World of Warcraft a few weeks ago. So fun!
So, for Tate's birthday this year we made a trip to Tulsa and took him to Build-A-Bear--it was a little before Christmas and it was a nightmare. It took us 2 hours to get through it. But in the end, Tate loved his football star bear. (I'll have to find a pic sometime). Then we went to Incredible Pizza where we ate lots and played tons of games. I even got Brian on the go-karts with Tate. He had a blast!!
Christmas was SO fun this year. Tate really got into the whole Santa thing, which was awesome.
We also made hime some snickerdoodles and left chocolate milk (Tate insisted he liked it better than white milk). He also didn't think Santa would be able to see to eat, so he left him his flashlight to use. How thoughtful he is :)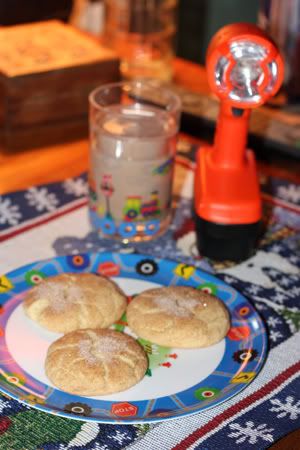 Santa was very good to us all this year!
Tate got a Black & Decker work bench with lots of tools, a drum, lots of cars and trucks, movies, books and the biggest gift of all: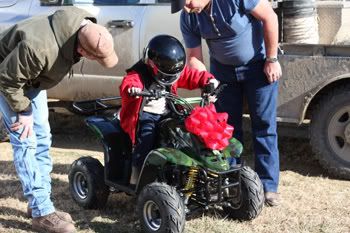 Yes, that is a gas powered 4-wheeler. He opened up a big box that had some keys in it. He tossed the keys aside, looking for something big and fun in the box. He had no clue. We finally had to ask him what he thought those keys might go to..then he started to get it. It was parked out in the garage with a big bow (thanks Nana & Rusty!)
Brian got some new boots, clothes, tools, his annual Christmas Heinz 57 Sauce (long running funny gift from his family) and a new Henry Rifle.
And I got a new phone--a Motorola Hint: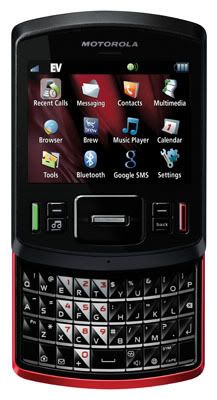 It's lots of fun, but there's a lot that I still want to learn about it. I also got money, gift cards, a cool rug and HIGH SPEED INTERNET!! Yes, I am SO happy about that one. I can actually update my blog at home in less than 2 hours! :)
We got to spend a lot of time with family this year. That was so nice!
Here's my dad and Tate: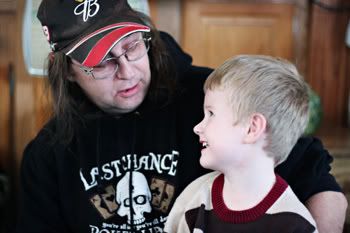 and my baby brothers...they are getting way too old! Kris, the oldest, turned 16 this year...I remember the night he was born.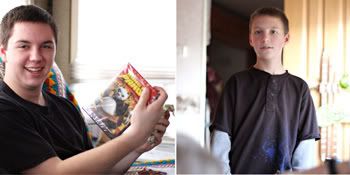 and cousins Ellie and Emma...Tate adores them! He even shared his new 4-wheeler and let everyone ride :)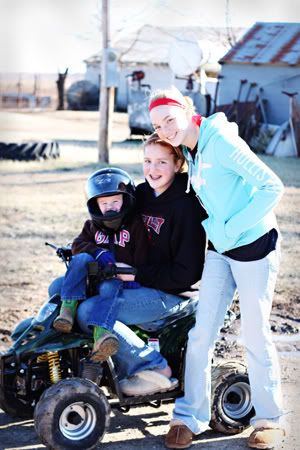 and I have to introduce a new member of our family. Meet Zeke: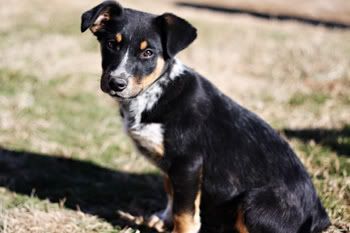 But sadly, I also have to say goodbye to another member of our family. My basset hound, Lucky.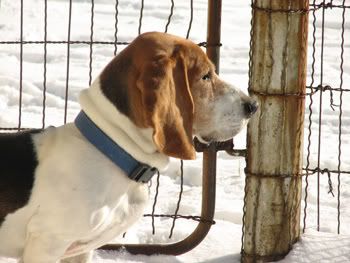 He passed away on December 2nd. He was over 12 years old, which is pretty old for a basset. My dad and stepmom got him for me for Christmas my senior year in highschool. I miss him SO much. He wil never be forgotten.
Okay, so...wanna see some creative stuff? I found some layouts that I had not posted yet from the last 2 months. Here ya go!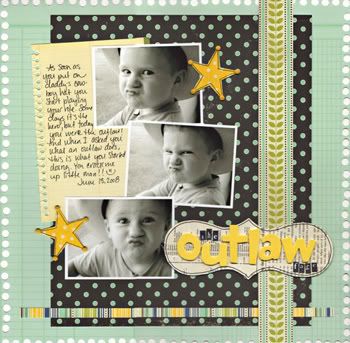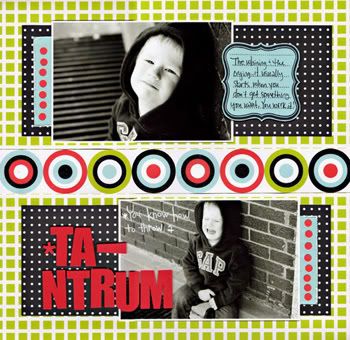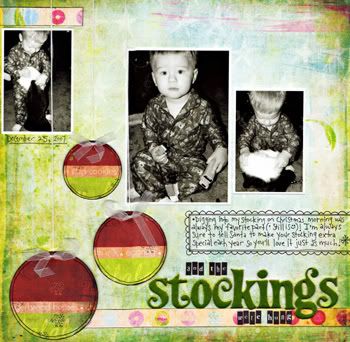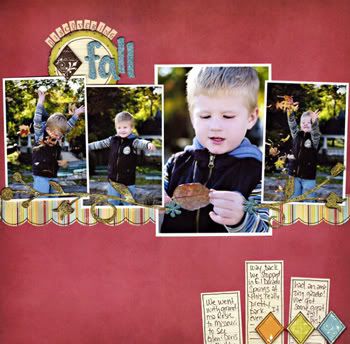 This last one was a lift off of someone on Two Peas, but I cannot remember who it was.
That pretty much wraps up 2008 for me. I'm ready to start fresh in 2009! I have some scrappy projects to work on for the store and some I want to do for myself. I always love the beginning of the year...Now it's time for me to set some goals. I'll be thinking on those and some resolutions and get that stuff posted soon! I promise, I won't wait so long next time :)