So, the 3rd and 4th of July is always rodeo time around here and probably the most anticipated event by Tate this year so far. Not only is the rodeo known for awesome bronc and bull riding, calf roping and steer wrestling...but it's also known for mutton busting. And this is where Tate comes in. Apparently his good buddy Tyler was telling him all about this fun little event...and Tate immediately said that if Tyler was doing it, so was he! The conversation went a little something like this:
Tate: "Mama, I am riding a buckin sheep at the rodeo."
Mama: "Oh, you are, are you?"
Tate: "Yes mama, I am. And I have to wear my cowboy hat so I don't hurt my head."
Mama: "You think your cowboy hat is going to keep your head safe?"
Tate: "Yes mama, it WILL. And I AM going to ride a buckin sheep at the rodeo."
Well, anyone that knows Tate knows that if he has his mind set on doing something, not much will stop him. And this was all I heard about for the next week until it was finally rodeo time. Now, I have to be honest. Tate sometimes ACTS so brave and sure of himself, but chickens out when it comes right down to it...I was honestly thinking that he might get in the shoot, sit on the sheep and change his mind. (My mommy brain was secretly hoping for this.) But that didn't happen. He was brave. And he was GOOD. And he finally fell off. And he cried. And I almost cried too. But he was the second youngest out of the 15 or so kiddos that lined up for their turn at conquering the sheep...and he came in second on who held on the longest and went the farthest. The little girl that beat him was about 6 or 7 years old. My brave little 3year old beat out a lot of kids...a lot of them much older than him. And he earned the prize he won. Three dollars which he spent today on a little blue scoop tractor at Orscheln's. And yes, I was snapping pictures like a mad woman...until the end when he fell off. I didn't get that one because I was too busy running out to make sure he was okay. So, here are some pics from last night!
The wait and anticipation...It was awful. He wanted to go right that minute, but he had to wait his turn.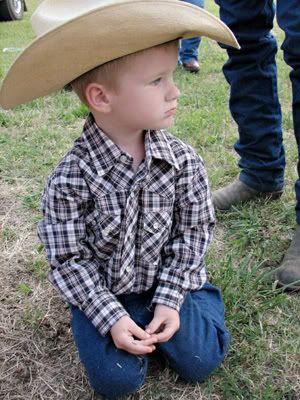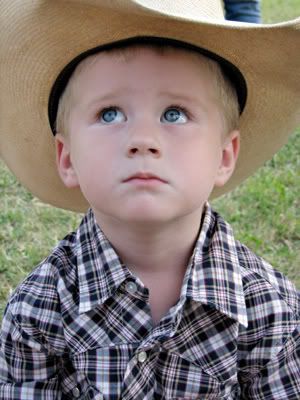 Finally Tate's turn...Shawn and Joey were helping them and offering good advice like "Hold on REALLY tight!"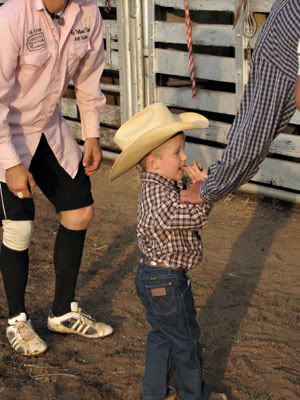 And out of the shoot he goes! (This is where my heart started frantically thumping out of my chest!) Notice Tate's hat flies off and Shawn makes a great catch!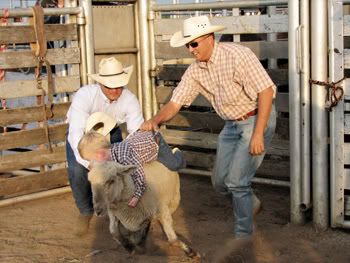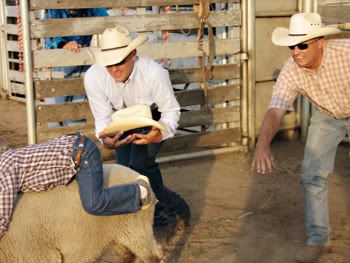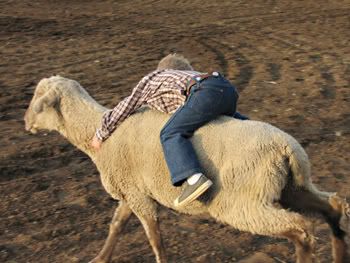 So, I don't have pictures of the graceful dismount, but I can tell you a little about how it happened. He held on for so long and the sheep went so far and was going so fast that when he finally DID let go, he planted the side of his face in the dirt and he rolled several times. Then the tears started. After the tears quit, this is what was left (ain't he cute?!):
And the dirt stayed there for a while...proof of the brave battle he fought with the menacing sheep. Everyone we passed gave him a good pat on the back and told him how great he did. I've never seen him so happy and I've never been more proud to be his mama!
Here's a few more pics from afterward...Tate being silly and cute. The last one shows my little brothers who are growing up SO fast! My dad and family were in town from Tennessee this week and came over to the rodeo for some fun as well!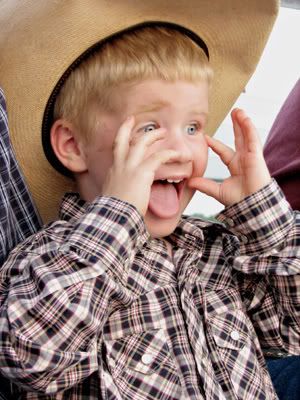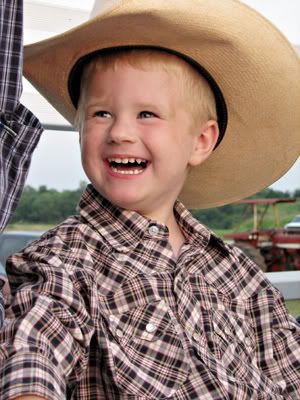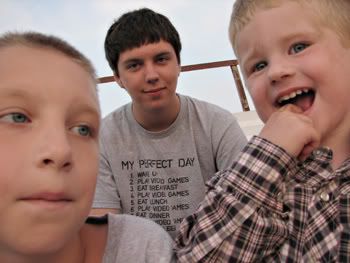 I hope everyone is having a great 4th! We spent some more time with my dad and family this morining/afternoon and I think we're just going to hang out at home this evening. We should be able to see some decent fireworks from our house!