So Leah, the owner over at
My Scrapbook Nook
issued a couple of challenges for the "Phase 2" DT hopefuls...
One was a Valentine's Day card. For some reason cards really intimidate me, but I was pleasantly surprised at how mine turned out! I used a transparency as the base for the card and used my favorite Scenic Route Loveland papers. Here is the result: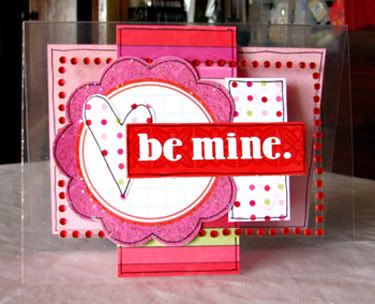 Here's what it looks like laying flat with the inside pink part showing through:
The other challenge was a LO using "Today" as a starting point. The layout had to be about ourselves. Again, with the Scenic Route papers...I just can't get enough! Here's my layout:
The new DT will be announced on Saturday and I cannot imagine having to make that decision! With all the amazing, talented women over there, it will NOT be an easy choice. Either way, I have made some great new friends over there! Love you girls! I'm officially addicted to the Nook!
Have a great week!