Let's see...couple of great things so far this week! I made it to "Phase 2" of the Design Team process over at
My Scrapbook Nook
! Phase 2 ends on Jan 15th when the new DT will be announced. There is some serious competition over there! Those girls are super talented and I am SO honored to even be considered! You should go check it out...they have some GORGEOUS kits!
I also got an email yesterday from Layle over at
Scenic Route
. I was one of the lucky winners for the
December Product Challenge
, yippee! And what do I get for that you might be asking?? Well, mid-January they will be sending me some BRAND SPANKIN NEW goodies from their new Lynden line--a Winter CHA release that they havn't even shown on their site yet! I am SO excited to have some new goodies in my hot little hands!
I also sent in a submission for the
Paper Trunk
Design Team call. They have some really gorgeous papers and stamps! Here was one of my entries: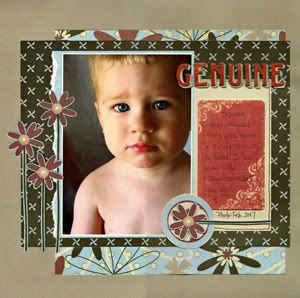 Anywho, hope everyone had a great Christmas and a Happy New Year! (I'll share some pics soon!) Have a great weekend!