For the weekend birthday crop at
Chasing Rainbows
! I'll be spending the rest of my day today packing my scrap stuff, my clothes (Tate and I are staying the night with my mom to save some gas!), printing pics, making cookies and making sure the house is picked up before I leave early in the morning...As long as Brian doesn't decide to throw some big party while I'm gone (haha) the house should be in a decent order when I get home Saturday evening...besides the pile of dishes that I know will be left for me to do in the sink... :)
I think I have everything ready to go for the class I'm teaching on Saturday morning...that should be fun because
Sarah
(one of the store owners that moved to TX) is coming back for the weekend to help out! I can't wait to see her! You should go check out her blog by the way...she has some fantastic stuff she's been working on plus she always has great stories about life with 4 kiddos...did I mention 3 of them are triplets?! I don't know how she does it, but it sure looks like she has fun doing it! :)
So, we're having a name badge contest this weekend as well. Everyone that comes to the crop is supposed to make their own name badge and I finished mine up this morning. I love how it turned out! So, I will leave you with a pic: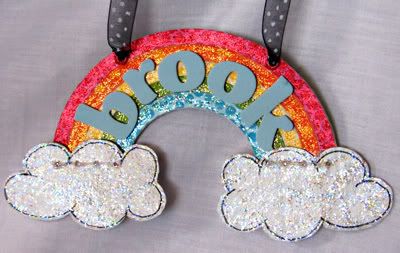 I made it from scratch out of a plain old piece of chipboard. I got the rainbow part from my trusty Coluzzle circle template. I cut the piece of chipboard from it first, then went back and did each individual half cirlce with 5 different pieces of paper. Then I stuck them down and covered them with some coordinating Stickles glitter glue. I added my name with American Crafts Foam Thickers...I did it while the glitter glue was still wbet for some added adhesive. Then I just free-handed the clouds on chipboard. Well, I free-handed ONE cloud, cut it out, flipped it and traced it for the second. I painted them white (a few coats), drew some lines around them, stitched them on and painted some glitter glue over that. Then I made some holes for my 2 eyelets, put the eyelets on and strung a piece of ribbon through so it would just hang down from my neck. Easy peasy!
Have a fun weekend everyone! I know I will!